The Porsche 911 is a car that needs little introduction. It's iconic, unforgettable to drive and has an instantly recognisable shape. The Carrera GTS that we test here does require an introduction, though.
The GTS slots neatly between the standard Carrera and the beasty GT3. You have the option of two- or four-wheel-drive, and a seven-speed manual gearbox or a dual-clutch automatic. 
Any driving purists will be glad to know that our test car came with two-wheel drive and a manual gearbox – the driver's choice, you could say. Yet, the 911 is still reasonably practical, as there's enough luggage space and – at a squeeze – room for four people.
On the outside, there is actually quite a bit of difference to the standard 911s. It has wider bodywork as well adaptive dampers fitted as standard. The wheels are one of its best details, though, as the GTS comes with ultra-cool centre locks that you will only find elsewhere on the Turbo. There's a power boost too, with an extra 30bhp pushing the GTS's total output to 444bhp.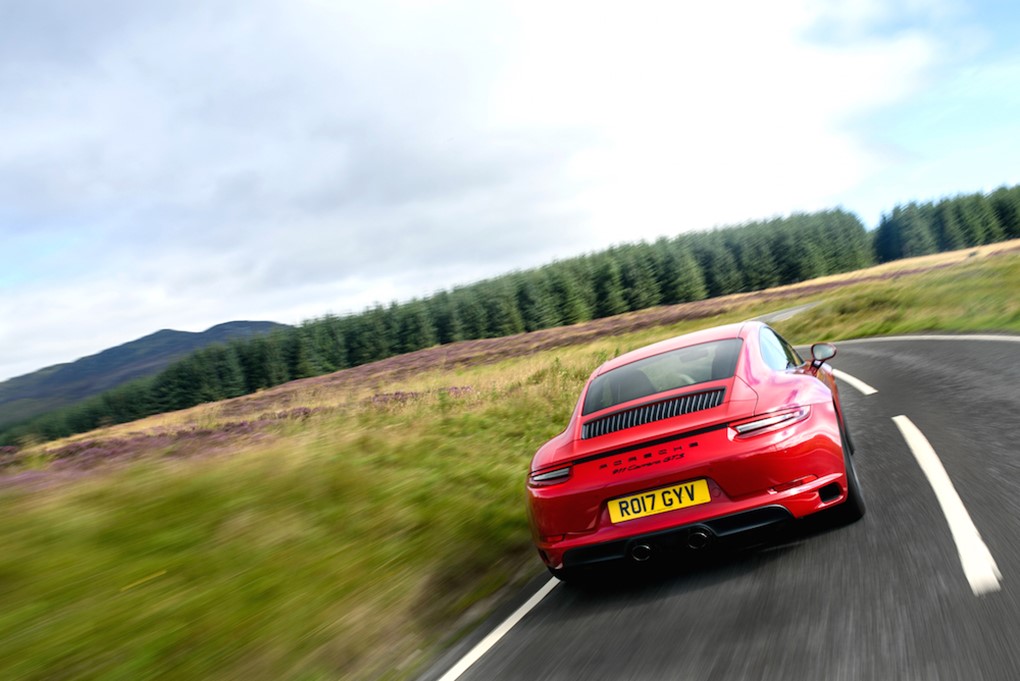 The GTS uses Porsche's latest generation of its renowned flat-six engine. It produces 444bhp and 550Nm – which makes it the most powerful non-GT, rear-wheel-drive Porsche ever made. 
A seven-speed gearbox sends power to the rear wheels, although as mentioned, the GTS can be specified with a dual-clutch automatic PDK transmission and with four-wheel-drive. Although, if you truly care about driving, you'll probably want to go for the manual.
You'd be disappointed if the drive of a 911 was anything but amazing, so you're in luck as the GTS is intoxicating to drive. It weighs 1,525kg, 75kg less than the porky Turbo, although it is 120bhp down on power. Whereas the Turbo is ferociously fast and corners predictably, the GTS actually allows for some proper driving enjoyment. It offers mid-corner adjustability that you just can't find in more powerful cars.  
The engine invites you to find the right gear and be revved out, rather than offering lots of low-end shove, which only adds to the incredible driving experience.  
As for the steering, it is pin-point precise, and well weighted, too. The adjustable dampers can also allow you to firm things up a bit, but really on UK roads, it's best if you just leave them in Normal mode. Our only minor disappointment lies with the brakes. They just didn't quite provide enough bite, and while they are completely fine in normal driving, if you're planning on using the GTS at high-speed, the optional carbon-ceramic brakes would make a much better alternative.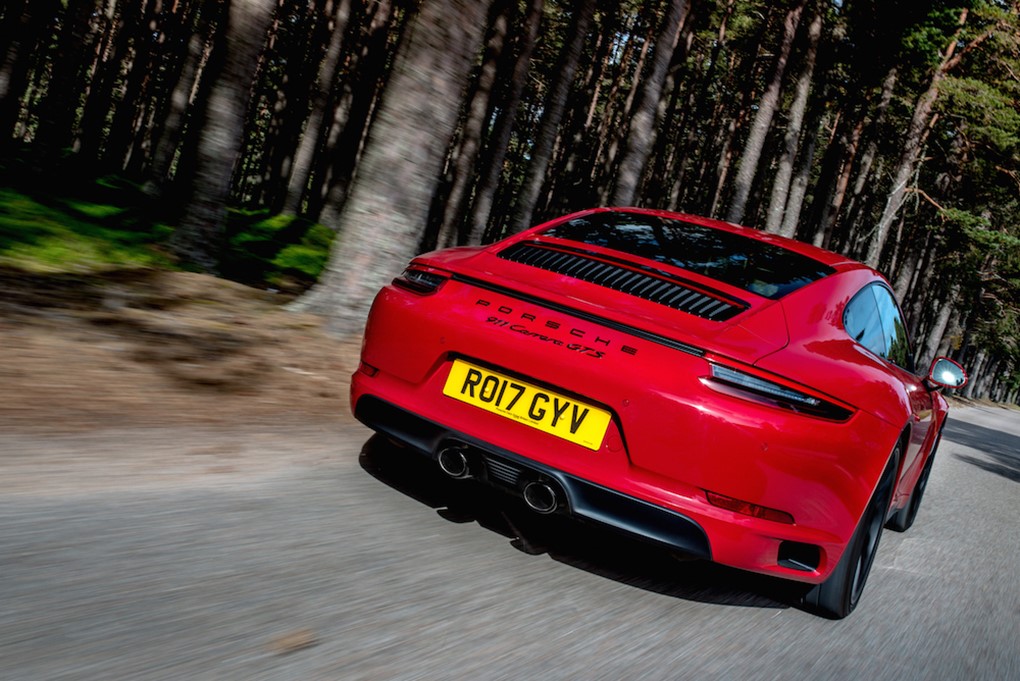 A pleasant mix of old and new greets you inside the Porsche 911 GTS. Pleasingly there's a large, analogue rev counter to remind you that such things still actually exist, alongside a high-definition TFT screen in the binnacle next to it.  
It's very classy, with lots of leather being used as well as Alcantara headlining to finish the whole package off. Annoyingly our test car did develop a minor rattle after hundreds of miles of driving – not what you expect from a £95,000 car – although this is only a slight niggle in what is otherwise a superbly built cabin.  
While the space on offer was never going to impress, it can just about seat two people in the rear at a push and has a reasonable amount of room in the boot – that is at the front, remembering of course that the 911 is rear-engined.  
Standard equipment on the GTS includes sports seats trimmed in leather and Alcantara, bi-Xenon headlights, Porsche Connect – which includes satellite navigation, Apple CarPlay and wireless internet access – and much more.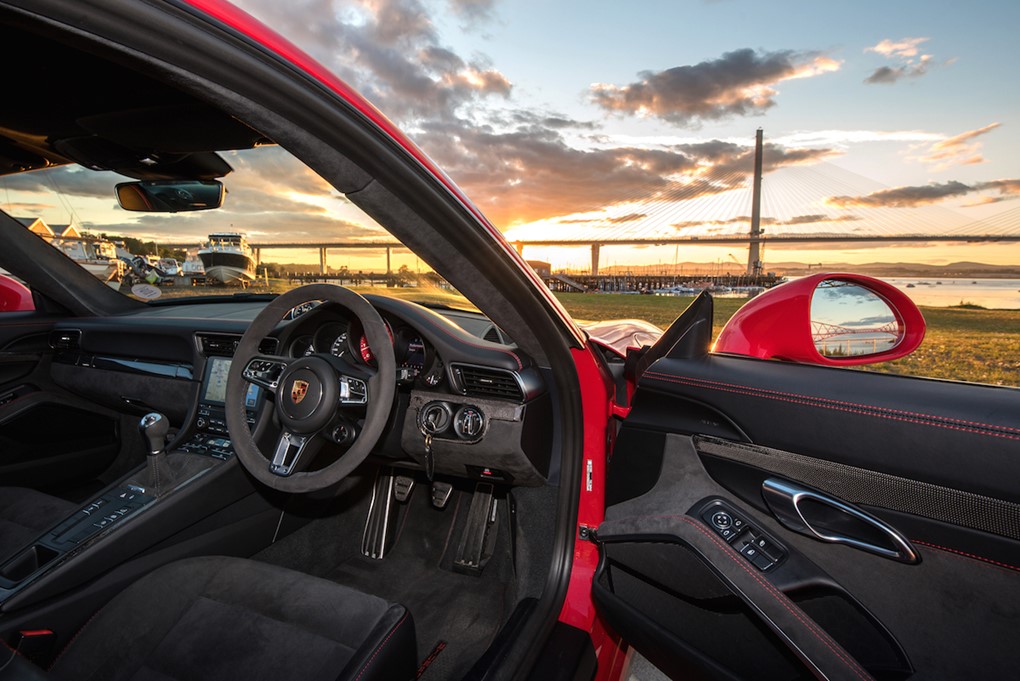 Here's the bit that lets the side down – the price. Our test car, including options, cost a hefty £107,359. The base price is £95,795, which makes it more expensive than the Jaguar F-Type R and Aston Martin V8 Vantage – which cost £88,290 and £94,995 respectively – although it is much cheaper than the Mercedes AMG GT S that costs a hefty £110,145.
You also need to consider the vast options list, which can easily escalate the already high list price of the GTS – as our test car showed. Costly options such as two-tone leather upholstery (£2,811), Porsche Dynamic Chassis Control (£2,273) and Porsche DynamicLight LEDs headlights (£1,722) soon push the car into the six-figure territory.
As for running costs, the 911 Carrera GTS emits 212g/km of CO2 and claims to manage 30.1mpg on the combined cycle.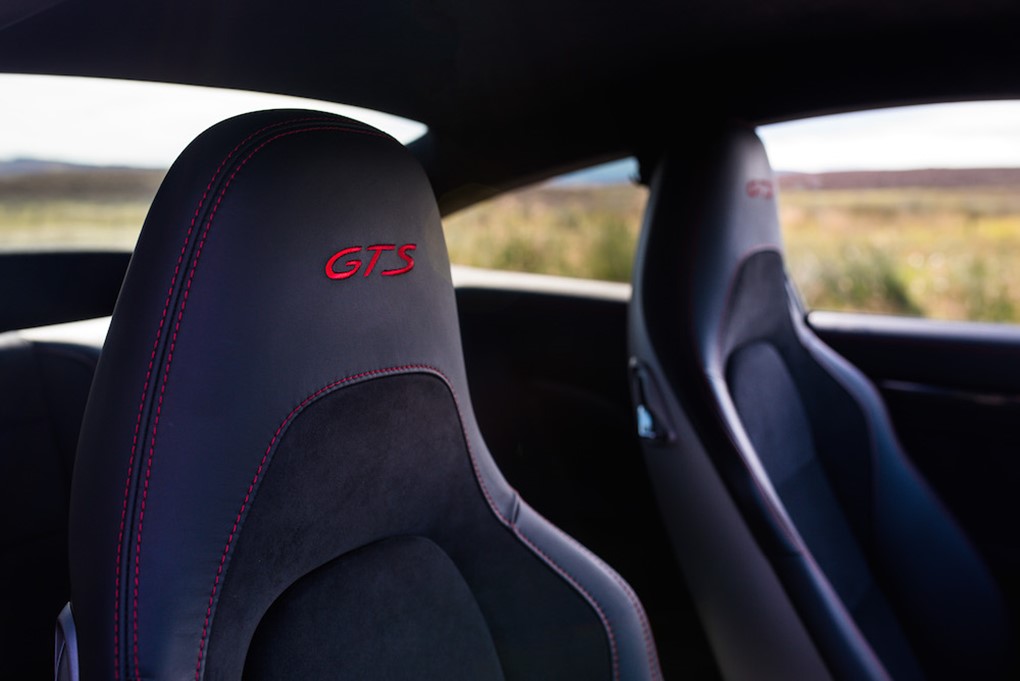 The Porsche 911 GTS is not too far off being all the sports car you could ever want. It is fast, handles incredibly and has more road presence than the standard Carrera thanks to its exterior tweaks. As a driver's car, it is best suited with a manual gearbox and rear-wheel-drive, which provides a driver experience that makes you realise why the 911 is still just as coveted now as it was over 50 years ago.